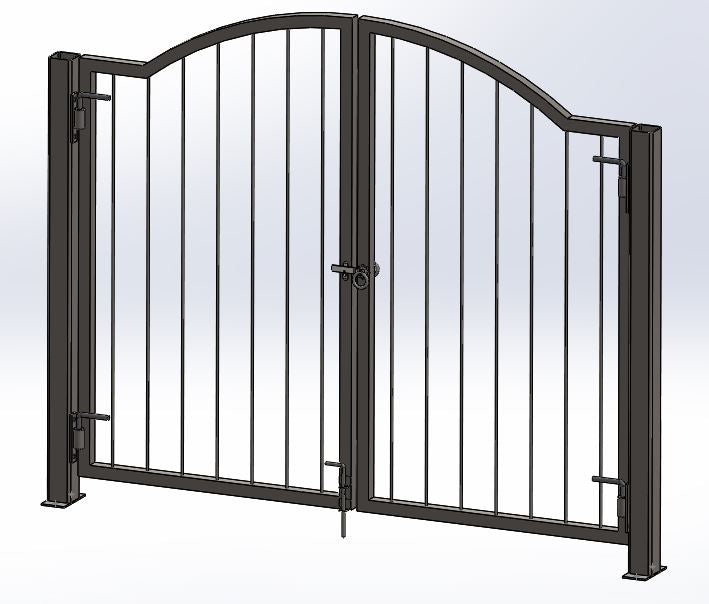 We design it... we can build it too!!!
We had a customer reach out to us recently asking for new gates to be designed for a drystone wall project that he was doing. We jumped at the chance to be a part of the project and it led to our manufacturing the gates and posts for them as well, not something we would normally do, but something they insisted on.
Our customer was unsure on how much granite stone they were going to need to build 100' of dry stacked stone wall. We helped them out with the calculations and came up with 45 tons of rock for Phase 1 of the project. Another 45 tons for Phase 2 and then finally 44 tons for Phase 3 ... that's nearly 140 tons of stone to be stacked by hand.
The posts are being support on two 10" concrete footings that are 20" long, that's 250 lbs of concrete to support each gate.
The posts are made from HSS 4x4x1/8" with unique base plates featuring 3 anchor bolts due to installation restrictions. We created templates to all for accurate setting on the anchor bolts.
The gates are made from HSS 2x2x0.100" and have arched tops. Seven steel bars are added as pickets to each gate with expanded wire mesh added to one side. The gates are then hung on heavy duty hinges capable of carrying 300 lbs each, these are unique as the pivot rotates on a single ball bearing than can be greased for easy movement and long life.
An ornamental handle and latch are then added with a pin to lock one gate in position when not in use.
We are looking forward to seeing the finished project, here are some pictures as the project progressed.
---